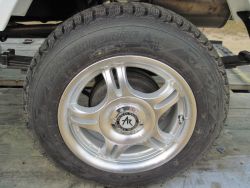 Call for current pricing.
Most newer ('99+) mini trucks can accept 13″ wheels and tires. Some trucks will require a mini lift on the front. This mini lift involves replacing the strut springs with a heavier duty spring.
We use American Racing Wheels and 155/80-R13″ tires. 4 wheel drive trucks will receive snow tread type tires unless otherwise specified..